Post by Deleted on Jun 21, 2017 18:13:45 GMT -6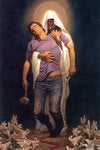 I am by no means an expert (and it is certainly possible the "fixed calendar" is God's calendar) – but I am very leery being willing to say – only such and such years – align with 1260 and 1290 day counts.
Great points KJS! None of us really knows for sure what the real calendar is, and that is why it is a
prospective
test.....we will find out very soon! I am very careful to say it is not definitive, but worth watching. It is worth noting that from the birth of Zedek from the womb in October is exactly 1260 days to Passover 2021 by the current Jewish calendar, and it is exactly 1290 days from the middle of Passover week to Yom Kippur 2024....now does this prove anything? No, but we will find out prospectively very soon if it means anything or not.
If
the current calendar is "God's" calendar that He gave us His signs by, then there are only certain years with 1290 day counts from Passover one year, to Yom Kippur 3 1/2 years later. This would have also been the case with any Jewish calender in the past......since the Sanhedrin added an extra month in certain years to adjust the lunisolar calendar.....and it would have "averaged" 7 of 19 years for an added month. We do not have all the historical evidence to know exactly how they did it, although the Talmud gives some clues...the reality is they kept tight control over the calendar, and performed the deliberations in a closed council......only to announce the results to the people when they deemed it timely.
There were at least 4 calendars working in Judea at the time of Messiah in the first century, and even the Jewish people themselves could not agree....hence calendars of the Pharisees, Sadducees, Essenes, Galileans.....then, there is the debate which no one knows the real answer for, which pertains to the "new moon" of Rosh Chodesh, the first of the month. There are competing viewpoints that the New Moon was the first sighting of the crescent, while others that the new moon occurs when the crescent of the old disappears.......so without evidence in hand to prove what really went on, all speculation as to what is the "correct" calendar in my view is just that...speculation.
I find it interesting that God in His awesome knowledge, created and described the Rev 12 sign with the sun, in which we will not be able to see it without a miraculous event, which could occur....however, it is amazing that it appears the sign will mostly be known only through computerized technology, which did not even exist in our early lives.....it is for a time like this when we have computerized programs that we would even be looking to the skies.